July is here, and for many health care professionals that signals a special time of year: the entry of a new cohort of providers in training! Our Department of Family & Community Medicine and the Family Health Center at SFGH recently welcomed a new class of interns; as such, this month is a uniquely exciting and busy one. (As an aside, it's only fitting these new department members will get to see many of their attending physicians in the learner role as our health center forges ahead with an epic transition to a new electronic health record – pun definitely intended…)
When initially approached to contribute an entry to the End HepC SF blog, it was easy enough to almost-reflexively request a deadline extension because of what was already looming on the horizon. But if I'm to be honest, I knew I also needed time to think through this issue. The reasons for this are many, but the short story is that I find HCV education and training for residents to be a challenge. It's most definitely a good one to have, and by no means do I consider it a particularly major challenge relative to others, but – simply put—I'm not sure we are where we really want to be with resident education. At this point in time, many excellent educational resources are available online; these are well-organized, updated regularly, and designed to allow learners to digest information in a self-paced and interactive manner. This leaves me to wonder, then, what curricular material I'd consider to be of highest yield when I have an hour or two of prized face-to-face teaching time with residents? Further, many (including myself) believe that some of the most valuable learning experiences can arise when residents directly participate in HCV treatment decision-making and trouble-shooting with patients. How can a large residency program like ours ensure every resident has a critical mass of such experiences in order to guarantee ongoing interest in treating HCV, and – just as importantly—that their HCV-related skills-building becomes a self-sustaining process? Although our residency program has made great progress in a relatively short time, my sense is that untapped learning opportunities remain and we have yet to fully integrate HCV teaching and care throughout our program.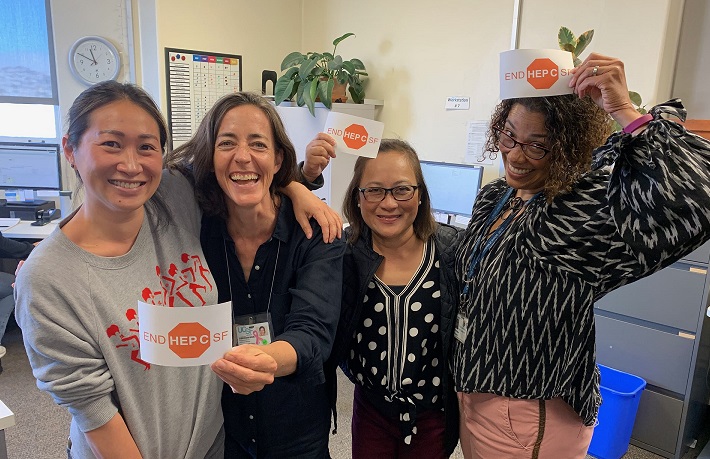 I'm extremely fortunate to be a clinician-educator here in San Francisco, surrounded by incredibly skilled and inspiring patients, colleagues, and learners. I'm even more fortunate to have differing and varied opportunities to exercise my clinician-educator muscles: outside of the Family Health Center, I have been involved with the national Hepatitis C Warmline, a free point-of-care tele-consultation/education service based at SFGH that can assist any health care provider who has questions about treating hepatitis C. Over the last year, our Warmline has grown by leaps and bounds— "on-demand" access to our consultant team has seemed to make a palpable difference for many callers, a number of whom might have been less-than-enthusiastic HCV champions when they started but who now find HCV care to be a uniquely rejuvenating part of their week. One thing I am most proud of is the clear value our Warmline offers, by being able to synthesize various guidelines, provide up-to-date evidence, and help busy providers identify realistic strategies to reconcile general clinical recommendations with their individual patients and practices. Our consultants certainly have had the benefit of being firsthand witnesses and contributors to HCV-related initiatives in San Francisco, but San Francisco's models and processes of HCV outreach and treatment aren't necessarily portable to a rural community in Alaska. One caller shared the following feedback: "I am so happy [the Warmline] is available to enable primary care providers to care for patients that otherwise would not get care or treatment for hepatitis C." Testimonies such as these bring a lot of joy and meaning to our work.
As you can [hopefully] see from the above, if nothing else, my day to day environment is very much one of teaching and learning, and helping to support universal patient access to high-quality care. So, in the spirit of learning, I'd like to end with the thoughts below.
Things I am confident of:
Supporting patients through HCV treatment is a highly rewarding experience as a primary care provider. Every other week I skim at least one article or headline on primary care provider burnout, and wonder how much of this can be attributed to feelings of ineffectiveness or perceived lack of meaning in our work? Most days I feel that my patients' healthcare-related needs are getting more complex, rather than less, and this can be quite discouraging. Telling someone they have been cured of a chronic condition is not exactly a common occurrence, at least in my experience (I don't think I've ever told someone their diabetes or hypertension was cured!) Who wouldn't be interested in learning how to integrate HCV treatment into their practice? Isn't this an exciting knowledge base we'd like to share with all primary care providers?
Training family medicine residents is complex. Residency training programs are typically constructed to meet requirements for both residency education as well as board certification. Although specific requirements vary by program, several months are devoted to required rotations in obstetrics, pediatrics, general surgery, and inpatient hospital care. Outpatient family medicine curricula typically cover dozens of commonly encountered diagnoses and complex, chronic diseases. This creates challenges when trying to identify when and how to best insert HCV teaching into residency activities. How many hours are needed? Is the content purely knowledge-based? What skills are important to teach? How can I ensure that every resident's continuity panel includes some HCV? Many safety-net health centers such as ours are also teaching clinics, and incorporate multi-disciplinary services such as pharmacy and nursing visits (alongside multiple types of learners). For such settings, how can we create models of HCV care and education that are comprehensive, patient-centered, and seamlessly integrated into the fabric of the clinic as a whole?
Our residents are inquisitive, passionate, and will continue to do great things after residency. I simultaneously love it and hate it when a resident asks a "why" question that I have no good answer to. Questioning what we think is established knowledge can sometimes lead to better ideas, so it's important to retain (and foster) a sense of continuous learning and curiosity.
Things that remain unresolved (at least, for me):
Are we reaching the end of the HCV treatment pipeline? Have we "compressed" the HCV Care Cascade and streamlined treatment and monitoring practices to the fullest extent that's possible and appropriate? Is access to DAAs where we'd like it to be? Will these collective accomplishments help generate more interest among those who previously thought HCV treatment was too much to take on, including residents newly entering the primary care provider workforce? In other areas of medicine such as substance use and HIV, new models of "low-threshold" care and rapid treatment initiation are being developed, implemented, and evaluated across varied settings. Have we reached that yet for hepatitis C?
How can we support the development of more HCV-knowledgeable educators and treatment champions among a large and diverse faculty? If only one or two faculty are the primary knowledge-holders, this may potentially create bottlenecks for both training and care, not to mention confusion for learners. For example, if one supervising physician advises residents to refer patients to a specialist for HCV evaluation/treatment and another encourages residents to treat within their own practice, what type of message does this send?
I'm hoping that the years ahead, and ongoing dialogue with other educators, will help provide some clarity on the above. Suggestions for how to become a master residency HCV educator are most welcome! Thank you to the End HepC SF team for this invitation to share lessons learned, and to spread the word about our Hepatitis C Warmline!!

*This is a personal reflection piece. The views expressed herein do not necessarily reflect the official policies of the University of California-San Francisco or City and County of San Francisco; nor does mention of the San Francisco Department of Public Health imply its endorsement.